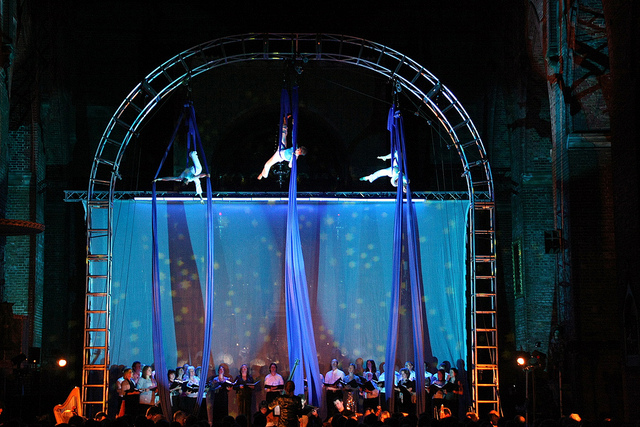 BCV performing in the Florentine Intermedi, in BREMF 2012
BCV rehearsal for Four Weddings and a Funeral in 2009
Next Concert:
MEDITATION
8th April St Martin's Church, Lewes Road Brighton.
Early Tudor polyphony and chant for Lent and Holy Week by Robert Fayrfax.
Nicholas Ludford - Missa Benedicta
BCV is dedicated to giving dramatic and exciting performances of music from the Renaissance and early Baroque. As well as running its own series of concerts, the ensemble appears every year at BREMF. It has taken part in music ranging from 15th-century a cappella polyphony to the spectacular 1589 Florentine Intermedi with renaissance orchestra, great Venetian works with the English Cornett and Sackbut Ensemble and Purcell with Emma Kirkby and the International Baroque Players:
. . .here intensity came from the grinding dissonances and the way they 'sigh' downwards to their resolution, an effect that the choir under its director Deborah Roberts really savoured.

The Daily Telegraph (concert at BREMF 2010 with Emma Kirkby and the International Baroque players, broadcast on BBC Radio 3)
In 2015 the group performed the 8-voice Vespers of nun composer Chiara Margarita Cozzolani, where it also supplied the soloists. The concert was broadcast on BBC Radio 3's The Early Music Show.
In the 2016 festival BCV will be joined by a host of performers, including the Community Choir, in the multi-media show Gaia on 12th November.
Singers are selected by audition, and should be good sight readers with clear, well-tuned voices. The size of the choir is flexible, depending on the repertoire, and singers are invited on a project by project basis. We particularly welcome student singers interested in building experience in singing an incredible range of fascinating and challenging music.
Apply by email giving details of experience to deborah@bremf.org.uk