Our work with schools and young musicians
As well as more concentrated projects, we organise a series of one-off workshops from up and coming early music ensembles taking part in our Early Music Live! scheme, for Brighton & Hove schools each spring. Get in touch at cathy@bremf.org.uk if you would like a workshop at your school in February/March 2017.
Brighton Early Music Festival is proud to be an Arts Award Supporter. If you're working on your Arts Award, click here to find out what opportunities we can offer to help you.
BREMF is part of SoundCity, the Brighton & Hove Music Hub.
See
www.soundcitybh.org
for more information.

Here are just some of the schools projects we've run in recent years:
Ruggiero Secondary Project (2015)
In Autumn 2015 we worked with Year 9 students from Dorothy Stringer and Cardinal Newman schools on a composition project inspired by our 2015 opera production – La liberazione di Ruggiero. The students attended a performance of Ruggiero, and then worked with composer Elspeth Brooke to create their own music inspired by the themes in the opera. They came together to share their finished compositions at St George's Church in December 2015, where they were joined by one of the professional singers from the opera cast.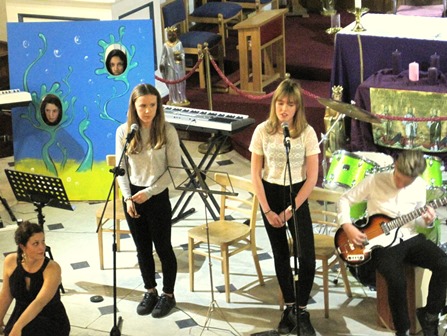 Watercycle (2014)
Our largest project ever, run in collaboration with the Orchestra of the Age of Enlightenment and involving 380 children in eight Brighton & Hove primary schools, as well as secondary students, a group of homeless people, SoundCity ensemble members and adult amateur musicians. As part of the project seventeen 8 and 9 year olds started to learn the bassoon, with a term's free lessons funded by SoundCity. Watercycle culminated in a final community concert in early December 2014 which brought together the Orchestra, schools, the BREMF Community Choir, SoundCity ensemble members, adult amateur musicians in a celebration of everything that had been achieved, as well as raising over £750 for WaterAid.
I liked that the children could get the opportunity to be in an orchestra Participant
Year Six Sing Brighton (2013)
Year Six pupils from three East Brighton schools worked with animateur Dominic Peckham to learn a range of songs which they then performed to each other and their parents in a concert at St Luke's Church. Brighton Festival Youth Choir also performed in the final concert, and offered project participants a taster session with the youth choir.
Everything was amazing, every minute we learnt more Participant
Gloria! (2013)
150 pupils from three Brighton & Hove primary schools learnt Vivaldi's Gloria by ear, and then came together to perform it with the Orchestra of the Age of Enlightenment in St George's Church, Brighton. Singers from the BREMF Community Choir and the London Youth Choir were also involved in the final performance, conducted by project leader Esther Jones.
Anthem for a Child (2012)
In our first project outside Brighton & Hove, we linked up with four primary schools in Hastings for a project with the Orchestra of the Age of Enlightenment, culminating in a massed concert by 400 children in St Mary in the Castle, Hastings.
Beggars Opera Remix (2011)
GCSE and A Level students from Blatchington Mill and Varndean Schools and City College Brighton & Hove worked to create their own 21st-century take on the 18th-century music-theatre piece The Beggars Opera, which they then performed as part of BREMF 2011.
Our Arts Award Supporter offering
BREMF is an Arts Award Supporter, and there are lots of different opportunities for you to get involved with our education programme, which can count towards your Arts Award.
TAKE PART
We run lots of different schools projects in Brighton & Hove schools throughout the year. Get in touch at cathy@bremf.org.uk if your school would be interested in taking part.
In September and early October each year we run a series of public workshops for singers and instrumentalists – open to anyone over 16 who fulfils the entry criteria, and to younger students by special arrangement
Anyone aged 16 or over is welcome to join our BREMF choirs, and we have several members who are students. We would particularly encourage music students who are really serious about their singing to audition for BREMF Consort of Voices. See the BREMF Choirs section for more information. If you're aged between 11 and 16, why not consider joining the Brighton Festival Youth Choir?
FIND OUT
Tickets for BREMF events are free for anyone under 12, and concessionary rate for anyone aged 12-25. See the main homepage from early Sept to book.
Sign up to our monthly e-newsletter (click "join mailing list") for background information on the artists and programmes we'll be featuring in the Festival
Get in touch if you'd like to attend an on-the-day concert rehearsal with particular artists in the Festival, and we'll do our best to arrange it
Interested in a career in arts administration?  Get valuable experience for your CV by becoming a young volunteer during the Festival (16+ only). We need help with lots of things from checking tickets and selling programmes, to looking after artists and operating lighting and sound.
If you're a recent graduate, consider applying for our Festival Trainee scheme for young people planning to pursue a career in arts admin. Full details available in May.
WATCH, REVIEW AND SHARE
If you've attended a BREMF event, send us your concert review to cathy@bremf.org.uk and we'll publish it in our monthly e-newsletter
If you have a presentation linked to your Arts Award, which contains work done with BREMF workshops or events, let us know and we'll display it at our concerts